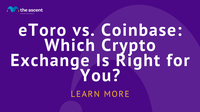 Comparing crypto fees can be difficult because each exchange structures its fees differently. And they aren't always transparent about how much they charge.
For example, eToro doesn't charge customers to deposit money, whether by bank transfer, debit or credit card, or another payment method. However, it does charge a higher spread (between 0.75% and 5%, depending on the crypto) than other exchanges.
Other eToro fees could add up quickly. It charges a 0.5% fee (capped at $50) if you want to withdraw your assets to the eToro wallet. There's also an inactivity fee of $10 a month for those who haven't logged in for a year or more. Non-U.S. clients will have to pay to convert deposits into U.S. dollars, as well as pay a $5 withdrawal fee.
In contrast, Coinbase does not charge customers to move funds to its wallet, but most deposits do incur fees. It costs at least 1.49% to buy directly from your bank account, though an ACH transfer is free. Debit card crypto purchases cost 3.99%, and users will pay an additional spread of around 0.5%. Coinbase isn't completely transparent about its spread: it says it calculates cryptocurrency trading fees when you make the transaction.
Buying $200 worth of Bitcoin (BTC) on Coinbase with a debit card would cost $7.98, plus a spread of about 0.5%. The same transaction on eToro would only cost the 0.75% spread.
But eToro's spread to buy Ethereum (ETH) is 1.90% and Tezos (XTZ) costs 5%, so it could be more expensive to buy Tezos on eToro. You may also find you pay other fees further down the line.
Overall, the fees are probably lower on eToro, depending on the type of crypto trading you want to do, though there's also a minimum deposit of $50 for U.S. customers. But it is worth thinking about how you plan to use the trading platform and understand what fees will be involved. Otherwise, unexpected charges may eat into your profits.